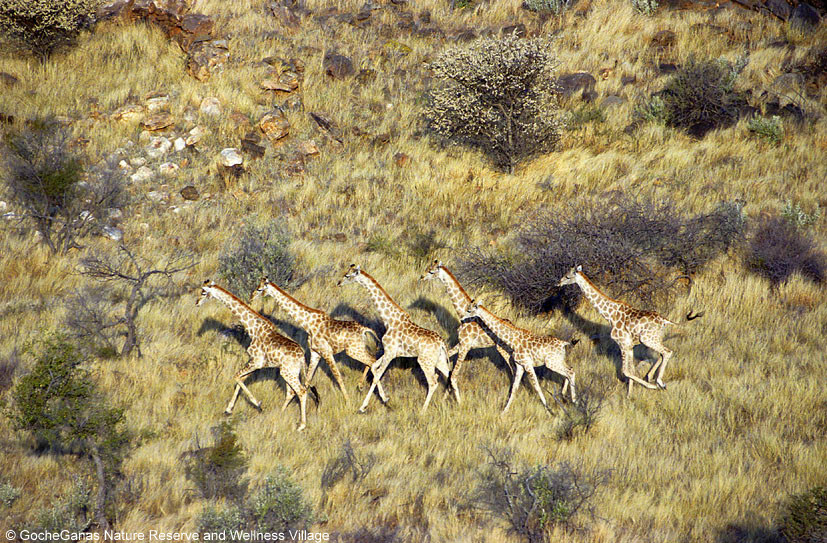 Namibia is located in Southern Africa, bordering South Africa, Botswana, Angola and Zambia and the Atlantic Ocean. Namibia boasts remarkable natural attractions such as the Namib desert, the Fish River Canyon, Etosha National Park and the Kalahari desert. Its people speak nine different languages, including some of the Khoisan languages which include the 'clicks' that present an enigma to most native English-speakers. Namibia produces some of the world's highest quality diamonds.
Namibia's abundance of sunshine, wildlife, spectacular sceneries and tourism attractions such as well-known Etosha National Park, the magnificient dunes of Sossusvlei and the oldest living plant in the world, the Welwitschia Mirabilis, to name but a few, makes it a highly sought after tourism destination.Added to this, Namibia has efficient and excellent infrastructures with its top class accommodation establishments which range from rustic to luxurious (such as GocheGanas), a number of airports and landing strips close to major tourism attractions and more than 5 000km of tarred and 37 000km of gravel road. Our national carrier, Air Namibia offers flights to various destinations within Namibia, and to Zimbabwe, South Africa, Angola as well as direct flights to Frankfurt in Germany.
With Namibia being a semi-desert and thus a relatively dry country, the climate is mostly warm to hot, with the nights slightly cooler. The average temperature in summer ranges from 20 to 34 degrees Celcius, whilst in winter the temperature can drop to between 10 and 0 degrees Celcius.
The rainfall season is mostly between October and March, with the exception of the southern part of the country, which sometimes experience winter rain.
Other useful information:
The official language of Namibia is English, but German is widely spoken;
Our currency is the Namibian Dollar;
Tourism is fastest expanding industry in Namibia, and after mining, fishing and agriculture one of the most important pillars of the economy;
Namibia' cellular network has roaming agreements with more than 100 different mobile telecommunication networks in more than 55 countries;
Namibia offers top medical facilities in all major towns, as well emergency medical services.
Namibia became independent on 21 March 1990, and Mr. Sam Nujoma was inaugurated as our first President. Namibia also enjoys a very stable political climate.
For more assistance in planning your journey to Namibia you are welcome to contact the Namibia Tourism Board (www.namibiatourism.com.na)
We look forward to welcoming you to Namibia and to GocheGanas!